HIFU stands for High Intensity Focused Ultrasound (HIFU) is a noninvasive and painless innovation for face lifting and wrinkles reduction. It uses focused ultrasound wave to encourage the production of collagen, which results in a firmer skin. It is a very safe and noninvasive procedure for tightening the facial skin with KFDA & ThaiFDA Approved. The ultrasound probe is designed to deliver ultrasound wave to an accurate skin depth, deep down to SMAS layer (same layer as doing plastic surgery face lift). It tightened the skin immediately without damaging the surface of the skin. This gentle form of lifting can be used on the entire face to counteract sagging skin. The following areas are ideal for treatment: the neck region, chin, cheeks and eyebrow area. During a session, an individual area can be treated or all areas can be treated at once.
Highly concentrated ultrasound waves penetrate deep into the skin and stimulate collagen and elastin production. 10-20% of the result can be seen immediately after the treatment. Best result in 1 month and last for 6-12 months depending on your skin condition and lifestyle. You should repeat every 6-12 months to keep you look young!
9 Frequently Asked Questions - Click on the question to find the answer!
This ultrasound wave is very safe, it is the same wave that use to treat cancer or ultrasound the baby when you are pregnant. It does not damaged the surface of your skin, because it is not laser. The wave is very safe for your eyes so this means it is also often used to lift your saggy eyes too. No side effect, no downtime, May experience slight redness or swelling but will quickly subside, There may be a slight sensitivity to touch and light tingling sensation, which can persist for a few weeks and In very rare cases, bruising and temporary local numbness may occur. These side effects disappear after a few days.
2. What is the suitable age for doing HIFU?
When you are at 20 years of age, 90% of our face will starts to produce less collagen making the skin to sag and less elastin. This causes you to have deeper groove cheeks, saggy eyes, fine lines and if you do not start to take care of it the skin will continue to sag more and more. Therefor it is recommend that you should start to stimulates the collagen and lift your skin when you start to experience the sagging skin. This means if the age of 20 you can already starts to look after your skin to avoid the ageing lines that may come sooner than you think. However, if you are already at older age, do not worry because HIFU can still help you, but you may need to do it more often. Doctor suggest if you are 30 and above, you should repeat your HIFU session to make it last longer.
3. When can you see the result?
After LINNA HIFU 8D, you will see immediate results of 10-20% and see full result in 1-2 months and last for up to 6-12 months. After the procedure, can use your face right away. No downtime, no wounds, no swelling and no bruises.
4. Can HIFU be used on body? Is it effective?
LINNA HIFU 8D can be done at any area where we want the skin to be lifted and tightened. The head of HIFU machine have different depth that ultrasound wave can penentrate through your skin. The areas that can be done are 2 parts:
Face – double chin, neck, mouth corners, nasolabial folds, cheeks, under eyes, forehead, upper eyelids, and face frame.
Body – upper arms, thighs, waist, abdomen
5. Comparison between Ulthera vs LINNA HIFU vs Very Cheap HIFU
Ulthera is a branded HIFU machine from America but uses the same ultrasound wave length as LINNA HIFU 8D, going deep into SMAS layer. But normally it is quite painful so, it is essential to apply numb cream for 30-40 mins before the procedure. Therefore, takes around 1 hour for the whole procedure. itit will hurt a lot. And it takes a long time. But the advantage of Ulthera is that there will be a screen to indicate the depth of the HIFU shot that penetrate into your skin to in order for the doctor to see and to shoot energy into the SMAS layer more accurately. But in practice, doctors using the Ulthera machine must keep their eyes on the screen for every shot and must adjust the depth by pressing the hand shot by shot, this will take approximately 5-6 seconds per shot to achieve theoretical results. In reality, very few doctors are willing to waste time looking at the screen for every shot as they have to do 600-1000 shots, which takes 60-90 minutes and is painful for the eyes. Therefore, if the doctor is experienced there is no need to look at the screen while doing the procedure. If the doctor performs Ulthera without looking at the screen, it is hardly any different from doing LINNA HIFU 8D, which if comparing the value for money and time, LINNA HIFU will be worth the price, worth the time.
The HIFU 8D machine at LINNA Clinic uses the latest Korean innovation of a less pain HIFU. It uses MMFU (Micro & Macro Focused Ultrasound), that means the doctor can adjust the energy values for both small focus points and a large focus point so that the energy waves can be sent to the skin layers that need to be treated deeply, precisely and more efficiently and more tailor made to personalized the treatment for each patients. In addition, with the latest technology, TDT Technology (Thermal Diffusion Technology) helps deliver energy deeply and precisely into the deep layers of the skin without damaging the surrounding tissue of the skin and making it less pain. Another uniqueness is that it let out the ultrasound wave in Single Dot which other HIFU the wave comes out in Line Dot, making it easier for the doctor to design the lifting effect more accurately and customized lifting procedure according to each individual problem. Also the head of the HIFU is smaller, allowing it to enter the small areas of your face like under eyes and groove cheeks very well.
Talking about other very Cheap HIFU in the market, you have to check the standard of the machine because it the machine does not have FDA Approved it is very likely that the ultrasound wave length may not be stable and it might not go deep to your SMAS layer for lifting effect. This means the result may be hard to see or you may be in more pain that normal or even some bruises on your face.
6. Pros & Cons of LINNA HIFU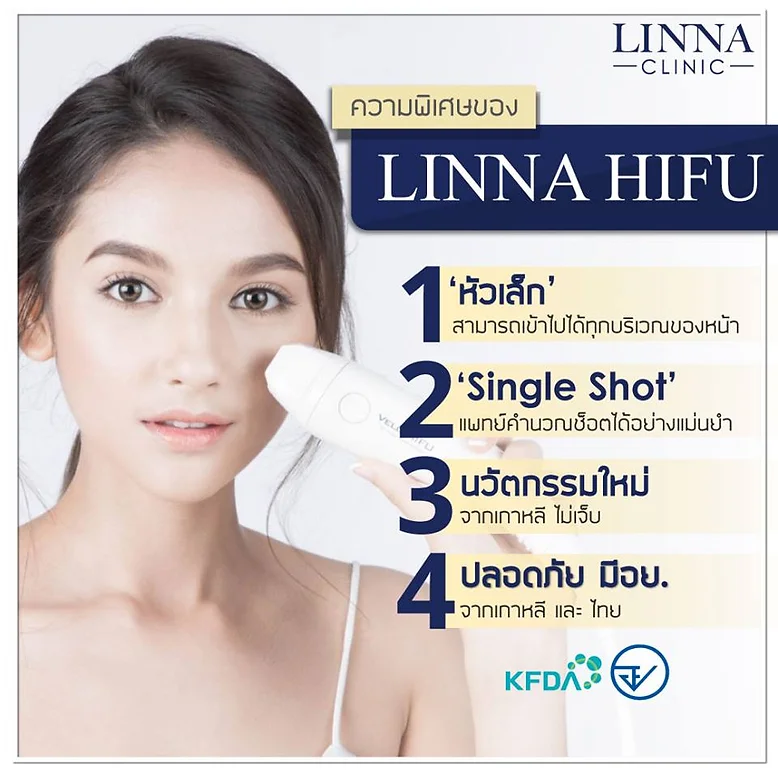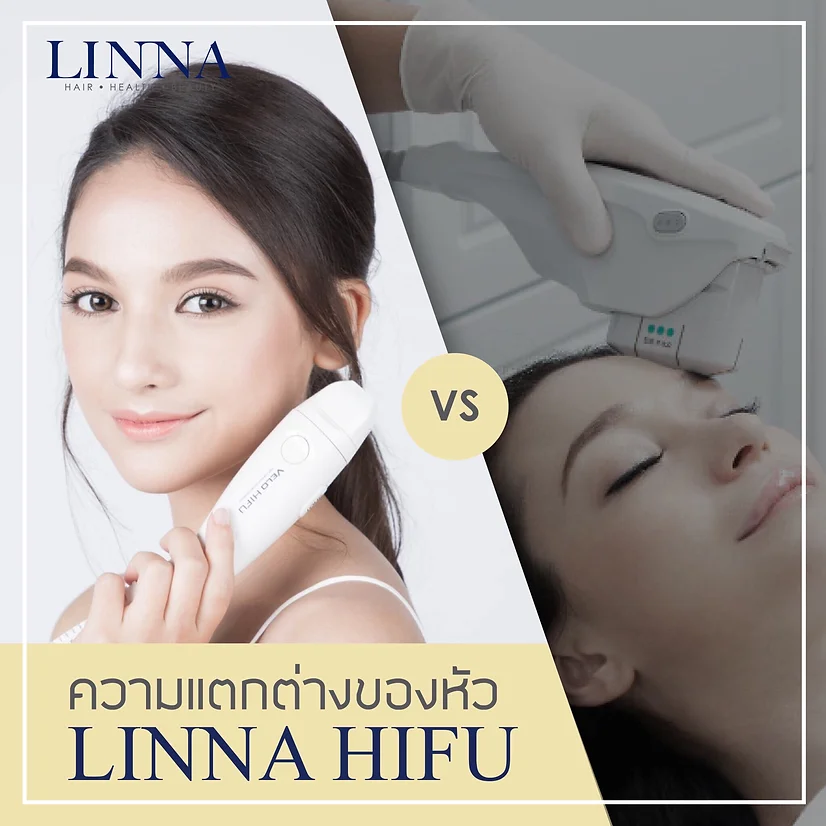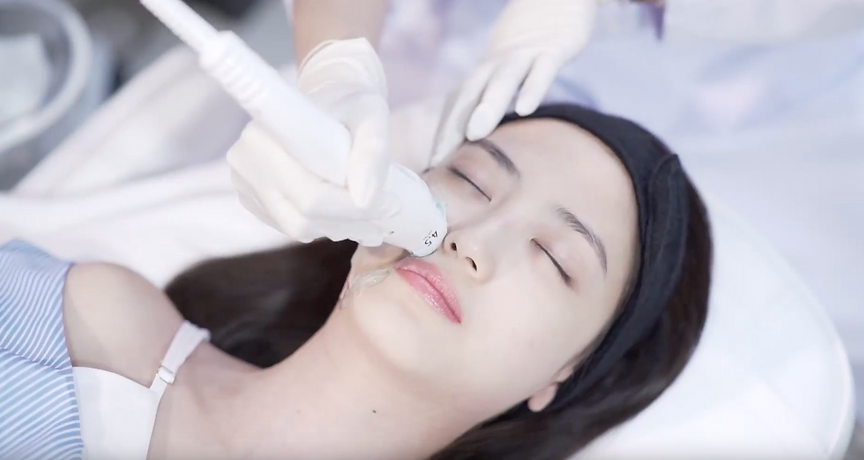 7. Can we combine HIFU with other treatment?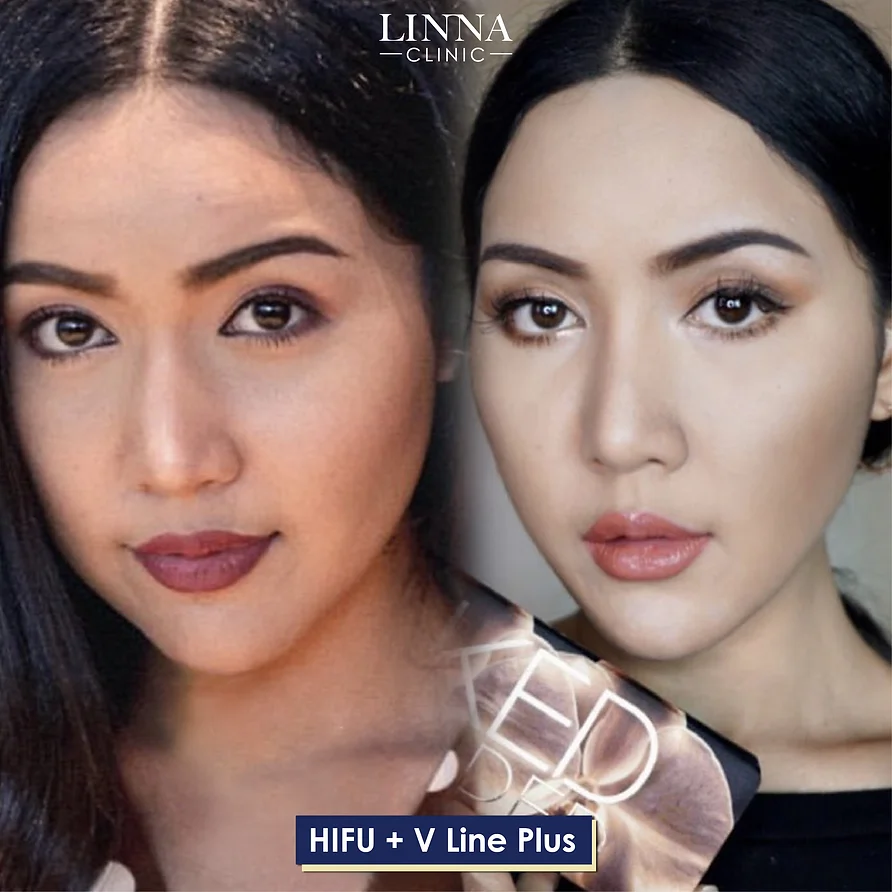 Yes, it can be use with Botox, Filler, Mesofat, threadlift, skin booster, etc for a quicker results. However, it is recommended you consult with our doctor first to design the personalized program for you.
How does HIFU get results
Reduce the sagging of the face

youthful firm skin

Stimulate collagen under the skin layer

Reduce worry and laugh lines

raised eyebrows

Tighten the chin and neck

Increase the sharpness around the jaw line
How long the result last?
HIFU sees results immediately, 10-20%, sees full results in 1-2 months. After finishing, you can go to work or errands right away. No wounds, no need to rest your face. Last up to 6-12 months
It is advisable to see a doctor before receiving treatment. to evaluate the face how many shots are needed
The number of shots used depends on the individual. Recommend the doctor to help evaluate the real face to be the most accurate. Using too many shots may burn the face or too little may not see the result.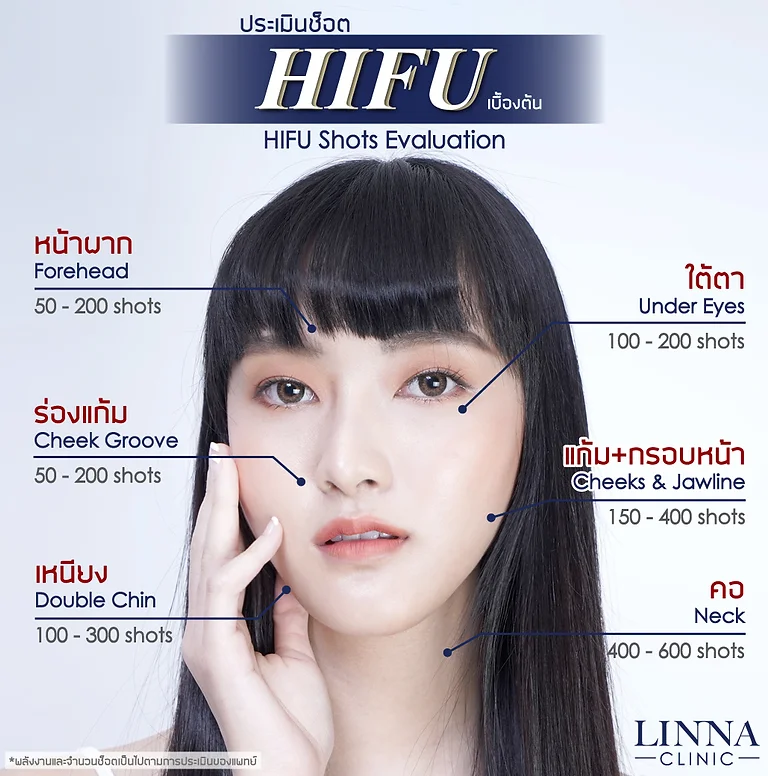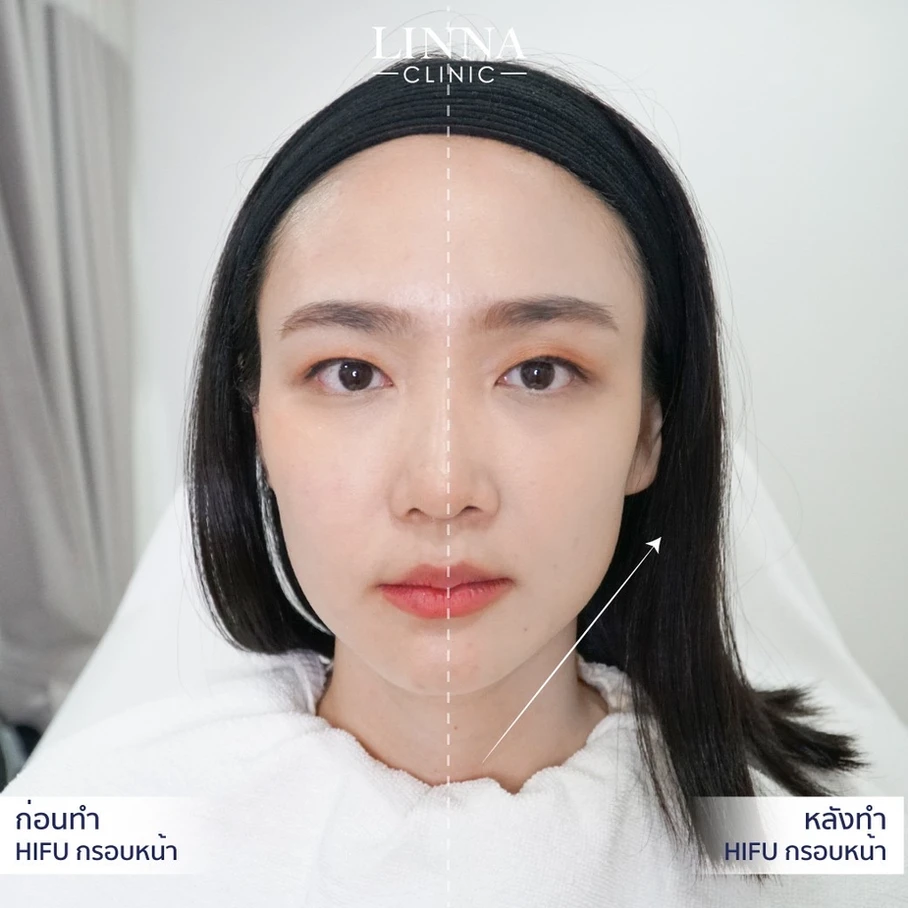 Why we use different number of shots for different areas
Why do HIFU 8D at Linna Clinic?
8. How to take care of yourself before and after LINNA HIFU 8D
Before Hifu
No need to prepare anything.
After Hifu
You can apply facial cream as usual. The more you have a dry face.
Taking collagen-enhanced vitamins will double your results.
If you can avoid smoking or drinking alcohol, it will be good. because it destroys the creation of collagen in the subcutaneous layer
9. Why does LINNA HIFU 8D do not hurt? Does it really work. Is the device not up to standard.
I have to say first that LINNA HIFU 8D is the latest innovation from Korea. designed to reduce pain It is a MMFU technology and releases single dot energy.And with the latest technology TDT (Thermal Diffusion Technology) helps heat better. and greatly reduced the pain Single Dot shooting allows doctors to design a more accurate treatment, less pain, and takes a short time. Do not apply anesthetic Therefore, the number of shots is completely different from the Macro Focused HIFU group and cannot be compared.
LINNA HIFU 8D is a premium grade machine with Thai and Korean FDA, it is the only machine that has been certified by the Korean Association of Dermatologists. The machine will not meet the standard depending on whether it hurts or doesn't hurt. But what kind of machine is used, what brand, is it with the FDA? Because many people say that other clinics are also small heads. But why is the price cheaper? Having said that, we should also ask to see the FDA of the machine. Because sometimes the equipment used may not be up to the standard without the FDA. The disadvantages will be on our own faces. So are we willing to trade it for a small amount of savings?
To do HIFU, the doctor will consider case by case how facial problems must be solved. like some of you might Cheek grooves are very deep. From the collapse of the body with increasing age, doing HIFU may not have a clear result. Filler must be injected together with the results to be more obvious.
Disadvantages of non-standard machines
Energy points won't focus, some are hot in the center. Some spots are not hot no consistency result in less results
Energy is unstable, some shots are strong, some are light, so doctors don't use high energy because of the shots. Too strong can burn your skin, swollen your face, and can injure nerves and cause your face to distort. The low power of the medic makes it less painful to shoot. may see some results, but it won't last long
Low-power cycles take longer to fire. But the result is the same or almost no results
Energy adjustment is at the doctor's discretion. The lifting technique of the doctor is also important. The technique of Dr. Linna Clinic is special. It is called the 8D technique because the HIFU head is a Single Shot type, it will be designed for more accurate treatment. Because we have a lot of cases Doctors know best which type of shot will be most effective with this device. Linna Clinic doctors will design the shot. In the faces of each person are different. because of different problems
Pre-treatment evaluation from a doctor is very important. because some faces have a lot of fat or a very large jaw. HIFU alone may not result as expected. The doctor will recommend doing other procedures together in order to see clear results.